Metal recycling is a popular business as it has economic and environmental benefits. If you reside in Singapore, have a massive waste pile, and would like to earn cash by selling your metal scrap, you have come to the right place. 
Though recycling metal is a good source of income, sometimes people bring a bucket full of scrap and earn a minuscule amount. Read on to remember few things that will help you make more money selling metal trash.  
How To Get Extra Money Selling Metal Scrap 
One of the easiest ways to earn passive income periodically is by selling metal waste. Check out the following points that will help you make extra money by scrapping metal.
Where To Find Scrap Metal?
The best place to look for scrap is at your home. Few everyday things used in scraping are old parts of vehicles, old machinery, batteries, appliances, and many other household things. 
Most of the kitchen scrap, bedroom, and living spaces such as old television, lamps, AC's, electronic appliances, and wires are considered scrap. 
Sort Your Metal
Sorting your scrap is an important step to get a fair price. It also depends on how clean your metal is. By cleaning the metal, you will get the best possible price. You get less price for unclean and mixed scrap.
Sometimes some expensive and rare metals get mixed in the bulk scrap, and you do not get the fair amount. We always suggest cleaning the debris before reaching out to us.
Where To Sell Scrap Metal?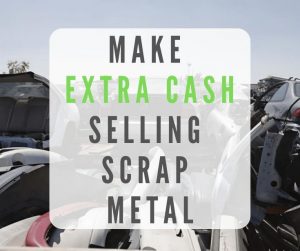 Now the big question is where to sell your metal scrap in Singapore? It is always better to sell your throw-aways to a trusted metal dealer who values your material and provides you with the best possible value. Better deal it with care and precaution.
Our team at LH Metal is highly professional and takes full precautions while dealing with it. 
Pick Up Costs
The cost of picking up scrap from your location and delivering it to the scrap yard is high, and it is not safe to transport it on your own. Specifically, heavy machines are inconvenient to haul.
We provide you free delivery and pick-up services that will save you time and money. We have also allotted bins at separate places so that you don't need to travel long distances.
Scrap Non-Ferrous Metals 
Ferrous and non-ferrous metals will fetch you a good amount of money, but non-ferrous metals are a little hard to find. They will reward you with more money while the ferrous metals are easy to find and can be found anywhere.
The primary non-ferrous metals are aluminum, copper, and brass. These metals can be found in the structure of houses and buildings. We at LH Metals accept all kinds of metals and offer you the best possible prices than the market. 
Finding Free Scrap Metal
As the metals have this superb quality of not losing their properties even after repeated recycling, you can collect scraps from various markets and construction sites for free. You can look for free metal pieces, but you need to be careful while doing so, as it includes risks. 
If you are eager to sell the scrap search for the best scrap metal dealer in Singapore, LH Metal is only a doorstep ahead. You can freely contact us any time.